The BBC should consider showing CBBC programmes after 7pm, according to a report by the BBC Trust.
The BBC Trust said almost 4.5 million children aged between 4 and 12 watch TV beyond 7pm, after the CBBC channel closes.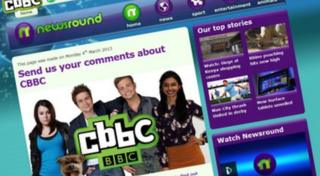 The report also said CBBC needs to make more of its content available on-demand, on tablets and other mobile devices.
But the review said CBBC was "much-loved" by children and parents, and praised its "distinctive content and the balance it provides between education and entertainment".
The BBC Trust exists to review BBC services at least once every five years to make sure they are performing well.
More than 8,000 children aged between 6 and 12 sent their views about CBBC to the BBC Trust, as well as 2,700 parents or carers.
Alison Hastings from the BBC Trust said: "We heard an overwhelming amount of praise for the BBC's children's services."