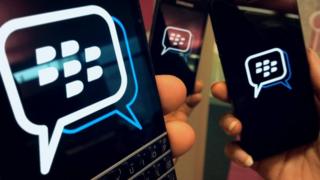 The launch of BlackBerry Messenger on Android and iPhone has been delayed after a leaked version of the chat software caused problems.
BBM was supposed to launch on Android and iOS at the weekend but was cancelled at the last minute.
BlackBerry said over a million people downloaded an unofficial version of BBM which somebody posted on the internet.
The head of BBM said this "impacted the system in abnormal ways" and the launch would be delayed by at least a week.
The BlackBerry company is up for sale and could be sold for around £3 billion.
On Friday the smartphone giant said disappointing sales of its BlackBerry Z10 phone had cost it about £600 million.