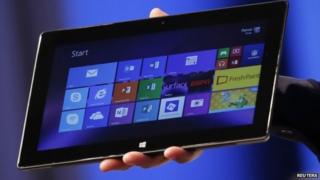 Microsoft has just launched two new Surface tablets in its latest push to make its mark on the tablet market.
The cheaper of the new devices, the Surface 2, starts at about £280 in the US and offers a better screen and camera than the previous version.
The higher spec Surface Pro 2 is more expensive - starting at around £560 - and improvements include longer battery life and better kickstand.
Both have 10.6 inch screens.
Some people in the tech industry thought they'd unveil a smaller sized tablet, but they've not gone down that route this time.
Microsoft started selling Surface tablets last October but they've not done that well, with Apple's iPad tablets still selling better at the more expensive end of the market.