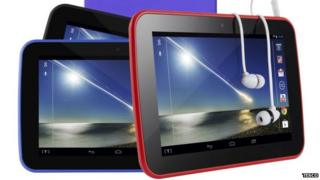 Supermarket giant Tesco has stepped into the tablet wars today, launching its new Hudl tablet computer.
It's a seven-inch device, costs £119 and runs the latest version of Android. Tesco hope the low price means it can go up against Google and Amazon tablets of a similar cost.
At the pricier end of the market, Microsoft is also expected to launch two new Surface tablets later today.
It's the latest move in the battle of the tablet computers.
Each maker is hoping for good sales leading up to Christmas.
It's just three years since Apple launched the iPad and kick-started the tablet revolution.
But soon tablet computers are expected to outsell regular desktop PCs, possibly by the end of this year. More than six million tablets were sold in the UK in the first half of 2013.