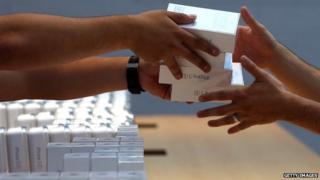 Apple has sold nine million of its new iPhone models in three days.
The company said that sales of the iPhone 5S and 5C had beaten previous launches of new phones.
Apple said that stores have sold out of their first batch of the iPhone 5S, but they were working hard to make more.
The 5S has a fingerprint sensor built into the phone's main button. The cheaper 5C comes with a plastic back in a choice of colours.
No pre-order
In previous years customers could pre-order the new iPhone ready for when it was released, but this time that wasn't possible.
Some people say that's why there's been such a rush to buy the new phones.
Telecoms expert Jeff Kagan told the BBC in an email: "This year anyone who wanted a new iPhone must get into line.
"That bolstered the lines and strengthened [the] opening weekend from a PR perspective. This upset users, but made for great numbers."