Kenyan authorities are close to ending a siege by a group of armed men, on a shopping centre in the capital Nairobi.
Witnesses say between ten to 15 people stormed the Westgate Shopping Mall in Nairobi at lunchtime on Saturday.
The shopping centre was packed with people out shopping or dining.
Kenyan authorities say at least 62 people have died since the attack began, with around 170 people injured.
Attacks like this are very rare indeed.
Officials say that security forces are now in control of all floors of the building.
Around a thousand people have managed to escape but officials say there's still an unknown number of people inside, either held as hostages or because they are trapped and hiding.
Guide: Advice if you're upset by the news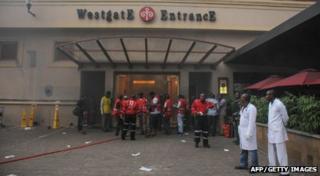 What is happening now?
Kenyan security forces have surrounded the shopping centre and armed officers are working their way through the centre floor-by-floor searching for people.
Kenya Defence Forces said three "terrorists" had been killed and all escape routes sealed off, with troops now focusing on clearing the building and rescuing hostages.
Security has also been stepped up at airports and borders across the country, with "more than 10 individuals" arrested in relation to the attack, officials say.
Kenyan President Uhuru Kenyatta has announced that they are close to ending the siege.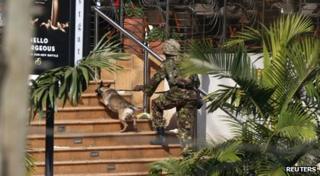 'Appalling attacks'
British Prime Minister David Cameron has called an emergency meeting to discuss the crisis.
He called the siege "an absolutely sickening and despicable attack of appalling brutality".
"These appalling terrorist attacks that take place where the perpetrators claim they do it in the name of a religion - they don't," he said.
"They do it in the name of terror, violence and extremism and their warped view of the world. They don't represent Islam or Muslims in Britain or anywhere else in the world."
Who are the gunmen and why are they doing this?
Shortly after the siege began, an organisation called al-Shabab announced that they are behind the attack.
The group is based in the next-door country Somalia and is linked with the fundamentalist Islamist organisation, al-Qaeda. Al-Qaeda have been behind a number of major attacks and bombings against western countries in recent years.
Somalia - a country in tatters
Somalia has been crippled by civil war for many years, with Islamist groups fighting against government forces. It's one of the most dangerous places in the world and the violence has started to spill across the border into Kenya.
Many people in Somalia have had to flee their homes and live in refugee camps because of the civil war. Foreign aid rarely reaches them and in 2010-12 a huge famine led to the deaths of tens of thousands of people.
Al-Shabab controls some rural parts of Somalia, where they impose a very strict version of Sharia law - but they have been pushed out of most towns and cities.
Al-Shabab says the attack is in response to Kenya sending soldiers in 2011 to help Somalian authorities try to remove al-Shabab from the country.
There are about 4,000 Kenyan troops in the south of Somalia, where they have been fighting the militants since 2011.