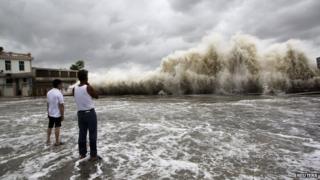 A powerful typhoon has hit parts of Southern China, and authorities say at least 25 people have been killed.
Weather experts say it's the most powerful storm this year, and the National Meteorological Center in China issued the highest weather warning possible.
The storms have caused flooding and brought gale force winds of up to 103 miles per hour (165 kilometres), knocking out power lines, bringing down trees and damaging roads.
Schools and businesses across the country have been closed and trains and flights have been cancelled.
Typhoon Usagi hit the Philippines and Taiwan at the weekend, where two people died in the storm.
Typhoons are common in parts of East Asia at this time of the year, where the warm moist air and low pressure conditions can cause tropical cyclones to form.