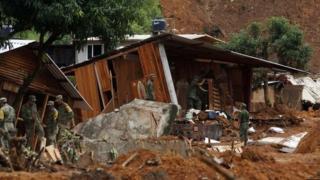 Mudslide in Mexico following storms
Mexico's president says it's likely that more than 60 people have died in a huge mudslide, following two powerful storms that hit the country.
He spoke after visiting the rescue operation in La Pintada, where the mudslide happened, and promised the village would be rebuilt.
Tropical Storm Manuel and Hurricane Ingrid battered both sides of the North American nation this week.
They caused