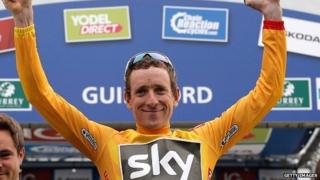 Cycling superstar Sir Bradley Wiggins has won the 2013 Tour of Britain race.
He'd been in the lead since the third stage of the Tour and began the eighth and final stage of the race with a 26 second advantage.
Even though Wiggins has had health problems this year, which meant he couldn't take part in some big races, this Tour win shows he is back on top form.
Last year he won the Tour de France as well as grabbing gold at the Olympics.
It was also a good day for fellow Brit Mark Cavendish.
The race is split into stages and even though Wiggins won the overall race, Cavendish won the eighth stage adding to his fourth and seventh stage victories.
The 2013 Tour of Britain was made up of eight different stages across a week, starting in Scotland and finishing in London.
The Tour of Britain is celebrating its 10th anniversary in 2013 and 114 riders, representing 19 teams, took part.