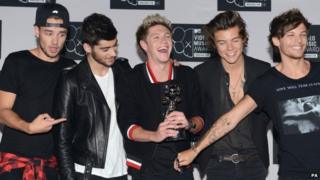 Radio 1 has released a list of its one hundred most played songs from the last five years and hits like Carly Rae Jepson's Call Me Maybe and One Direction's What Makes You Beautiful have grabbed a spot on it.
So we want to know what your favourite song of the last five years has been - and why you love it?
Is it a catchy tune that you love hearing again and again? Or maybe it's a song that reminds you of a fun holiday or place you've been?
Whatever your fave song get those fingers typing and let us know!
Sorry this chat is now closed, but check out some of your comments below.
Your Comments
I most enjoy Gangnam Style by Psy because it is so catchy and it reminds me of happy times with my friends.
Brandon, England
One of my fave songs is Girl In The Mirror by Cheryl Cole, because it has a good message to girls of don't be too hard on yourself and just enjoy being you.
Beth, Stoke-On-Trent, England
I like Christmas songs in the middle of September because it raises my spirit though I do like Rock Me by 1D.
Jemma, Birmingham, England
I like One Way Or Another - I liked it because they were raising money and the song is really good and also catchy.
Rav, London, England
My favourite song is Coldplay's Paradise because it is very catchy and their best song ever in my opinion.
George, Dorset, England
My favourite song is A Thousand Years by Christina Perri because it reminds me when I left primary school in July and also because it's sung in twilight and I love twilight.
Amy, Newcastle, England
One Direction - Best Song Ever - because it was really catchy and puts you in a good mood.
Meg, London, England
I am a fan of James blunt. He is a great guitarist and I am currently learning Beautiful on keyboard.
Jay, Norfolk, England
At the moment my favourite song is 'Beautiful Life' by Union J because it has a really nice meaning to it. But I'm also a really big fan of One Direction, Little Mix & lots of other artists.
Aisha, London, England
I love really catchy songs like Wild by Jessie J and We Cry by The Script.
Charlotte, Leicester, England
My favourite song is Katy Perry's Roar. It is so catchy as I have been singing it for days!
Aibrean, Tyrone, N Ireland
My favourite song is One Direction's Best Song Ever & Christina Perri's A Thousand Years!!
Adara, London, England
My favourite song has got to be Lego House by Ed Sheeren because he has a beautiful voice and the song is so catchy and beautiful!
Jess, Staffordshire, England
I love most Christmas songs because I love spending Christmas with family and friends. My favourite though is probably I Wish It Could Be Christmas Everyday!
Cerys, Pembrokeshire, Wales
I like Coldplay's Paradise because of the violin music at the start because I play the violin.
Felix, Bangor, Northern Ireland
My favourite has got to be Breakthru by Queen. I like it because it reminds me of my holiday in Blackpool.
Bradley, Chesterfield, England
You must ask your parent, teacher or guardian for permission before you send us a comment.
We may show your comment on this page or in our bulletins on the CBBC channel. We'll show your first name and which town you're from - but we won't use your details for anything else.