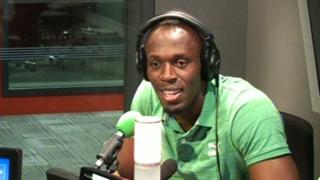 Usain Bolt sings on the radio
Usain Bolt says he hasn't decided whether to compete at the Commonwealth Games in Glasgow next summer.
The world's fastest man said if he does take part, he'll only compete in the 200 metre sprint.
If he does retire from running, Usain could always pursue a career in pop music.
He surprised radio listeners by singing a famous song by fellow Jamaican Bob Marley during an interview on BBC Radio 5 Live.
So could Usain Bolt top the pop chart? We'll let you decide.
Watch more Newsround videos