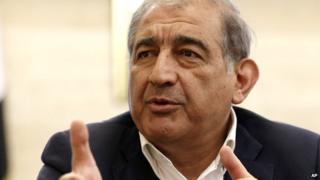 The deputy prime minster of Syria says the government would discuss a ceasefire if peace talks were held.
The Syrian government has been fighting against an army of rebels since 2011 and more than 100,000 people have died in the conflict.
Deputy Prime Minister Qadri Jamil told the Guardian newspaper: "Neither the armed opposition nor the regime is capable of defeating the other side."
On Friday Syria began sending details of its chemical weapons to the UN.
Syria was given a deadline to give a full list of its chemical weapons by Saturday, as part of a deal struck between Russia and America.
'Peaceful political process'
When asked what the Syrian government would discuss if peace talks were held between both sides, Mr Jamil said: "An end to external intervention, a ceasefire and the launching of a peaceful political process."
Read more: What's happening in Syria?