It's looking more and more likely that the 2022 World Cup in Qatar will be played during the winter.
European football bosses at Uefa have today given their support to playing the tournament either in November and December, or January of 2022.
Uefa nations agreed that a summer event could not be played in Qatar because it's just too hot at that time of year.
With summer temperatures of up to 50C in the Middle Eastern country, there are concerns for players and fans.
Uefa's 54 member associations supported changing the date at a meeting in Croatia.
The European support is a big deal because Uefa associations make up 10 out of 22 members on Fifa's executive committee, which will make the final decision.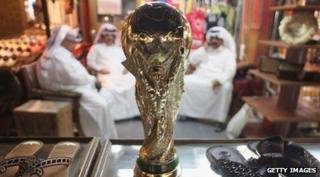 When in the winter?
"The World Cup cannot be played in Qatar in the summer," said Fifa vice-president Jim Boyce. "Everyone was certainly in agreement about that."
He says the question is now whether the tournament would be played in January of 2022 or in November and December of that year.
Uefa would prefer January so that it does not impact on the Champions League, but British associations want to make sure their Christmas and New Year fixtures are protected.
The Premier League don't want it during the winter at all and would much rather it was held in the summer.
Plenty of time
Boyce says the associations do not want Fifa to rush the decision.
"There is still nine years to go and people feel Fifa should sit down with all the major stakeholders and come up with a solution that would cause the minimum disruption to football," he said.
"There is plenty of time to do that in my opinion."
Fifa could agree in principle to alter the timing of the World Cup at a meeting in Zurich early next month.