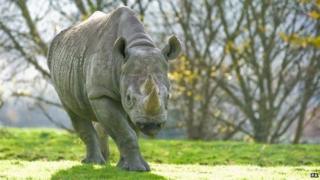 South African officials fighting rhino poaching say they've arrested a really important figure in the illegal trade in the animals' horns.
The man was arrested on Tuesday in a village near Kruger National Park.
"So far we have arrested a large number of foot soldiers, we believe this guy is the mastermind," said South African National Parks spokesman Ike Phaahla.
Record numbers of rhino have been killed this year in South Africa for their horns - more than two every day.
Kruger National Park covers nearly 20,000 square kilometres of South Africa and is the largest of the country's national parks.
Nearly 400 of the 618 rhino killed since the start of 2013, have been from Kruger. Government figures suggest more than 800 rhino will have been killed by the end of the year.
Some 191 suspected poachers have been arrested this year.
Rhino horn is smuggled from South Africa to Asia, where in countries like Vietnam it is seen as a status symbol.