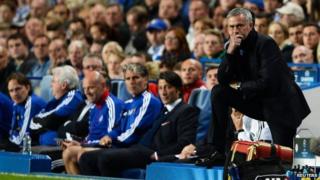 Chelsea manager Jose Mourinho says he should take the blame for his team's Champions League 2-1 defeat by Basel.
Oscar put Chelsea ahead but Mohamed Salah equalised for Basel and Marco Streller headed in a late winner.
"When we lose I don't speak about the players or individuals, I speak about my responsibility," said Mourinho. "I am responsible."
New signing Samuel Eto'o started and Demba Ba was a second-half substitute, with Fernando Torres not on the bench.
But Mourinho says he has no concerns over his striking options, despite not seeing many goals from them so far.
"I'm happy with the three strikers for the rest of the season," he said.
"The players are good players and good professionals, and try their best every day and every match," added Mourinho. "The happy moment will arrive."
Chelsea dominated possession in the opening hour against Basel, but created few goalscoring opportunities apart from Oscar's opener.
They were punished by the Swiss champions as impressive winger Mohamed Salah levelled with a curling shot before skipper Marco Streller headed in a late winner.
Mourinho believes the Blues will have to beat Basel in the return fixture on 26 November to make up for their home defeat.