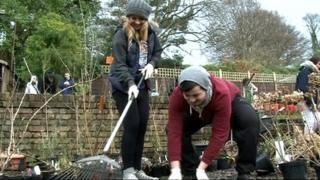 How would you feel if you were made to join the army or do charity work for a year after you turned 18?
MP Philip Hollobone wants the idea of compulsory National Service to be discussed by the government.
He wants young people to do a year of charitable work like caring for the elderly or even joining the army.
National Service like this used to exist in the UK but was scrapped 50 years ago.
It still exists in some places like South Korea where Gangnam Style superstar Psy had to join the army in 2003.
The National Service Bill 2013-14 was presented to the House of Commons in June and discussed for a second time last week.
That caused a huge rise in the number of signatures on an online petition against the idea with more than 30,000 now opposing the bill.
Parliament plans to discuss it further in November.
What do you think about National Service?
Your comments
I think it should be optional like it is already, I wouldn't want to do it because I would miss my pets too much!
Charlie, Paignton, Devon
Some of us think that this is a good idea, because we are fighting for our country; we can learn a lot from the experience; it's better than staying at home and playing computer games and it will compliment our forces. The rest of us are against it: it might interrupt college or uni or put it on hold, you would have to move away from family and loved ones, and you may have to leave commitments.
P7, Dornoch, Scotland
We think one year of compulsory service is a good idea because it will make people feel motivated to help their country.
Year 8, Old Buckenham Hall, Brettenham, England
I think it is quite fair because I come from Israel and there the boys do four years and the girls do three, so I think it's fair.
Shira, London, England
I think that people should be able to do whatever they like because I would never like to be in the army.
Amira, London, England
My tutor group thinks that any students who can not behave at school should be MADE to do National Service. Everyone else should have a choice.
Simran, Bradford, England
I think this plan should go ahead because it will improve discipline in our country and help prevent more crimes in the future.
Rowan, Leeds, England
I think everyone should have their name down but should have the option to opt out.
Jasmin, Sheffield, England
I think there should be more awards like the Duke of Edinburgh course where you have to do charity work. But you shouldn't be made to do it, but encouraged, as some people might not have time because they have already started work.
Carys, London, England
People should be able to make their own choices. Not be forced to do things. I'm 13 and I'm already working my self up to be a pilot in the RAF in the air cadets.
Travis, Cardiff, Wales
I think people should do a year in the navy because it would be a physical challenge and could make more people go in the army.
Mike, Leeds, England
I think doing the National Service would be a good thing as it trains people to be tough and helps our country.
Nia, Dorset, England
I think there should be a choice on whether you join the forces or not. Making all 18 year olds join is unfair, even if it is only for a year.
Daisy, Southsea, England
I do sea cadets which is the junior version of the navy so for me it wouldn't be a concern.
Luke, Hoddesdon, England
I think it is a good idea. I would love to do National Service because my granddad did it.
Conor, Burgess Hill, England
No it shouldn't be compulsory because that means people will have to give up their jobs and leave their families.
Ellie, Newcastle, England
I don't think it would be fair to make every one do the national service as some people will not want to.
Sam, Epsom, England
I think it's a stupid idea because people shouldn't be forced into serving in the army.
Laura, Montrose, Scotland
I'm in the Army Cadets, so one year in the army wouldn't bother me.
Paul, Stowmarket, England
I think it's a bad idea because people should be able to make that choice. If I was in that position I would not want to be forced into it.
Joe, Newcastle, England
I think this is a stupid idea as you would just have turned an adult and will be getting used to adult life!
Owen, Loughborough, England
I think it would be a good idea, the government is always looking for people to look after the elderly and it will make young adults think less about committing crime because this gives them something to do and gain friends from.
Demi, England
I don't think you should be made to join the army if that is something you would like to do then that is your own choice.
Hannah, Hemel Hempstead, England