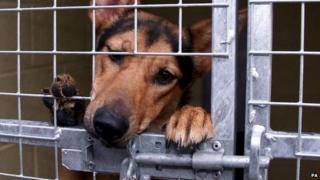 More than 300 stray dogs are picked up from Britain's streets every day, according to charity the Dogs Trust.
The charity says local authorities picked up nearly 112,000 dogs last year alone - that's 307 every day.
While the overall number has fallen by 6% in the past 12 months, the charity says the number is 'alarming' and there is still a problem.
They hope more owners will get their dogs microchipped before it becomes compulsory in England by 2016.
Almost half (48%) of the strays picked up were reunited with their owners, while more than a third of them (36%) were found a new home.
Sadly, 8% of those found had to be put to sleep.
"Whilst it is encouraging to see that the number of strays has fallen there is clearly still a problem," said Dogs Trust boss Clarissa Baldwin.
"We hope this alarming number will remind dog owners to ensure that theirs is microchipped."