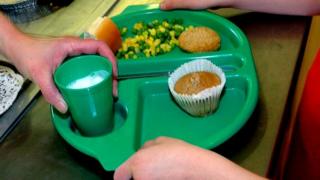 Infant school children in England will get free school dinners from September next year.
Deputy Prime Minister Nick Clegg said: "Giving children a good healthy meal at lunchtime is the best way to make sure they can concentrate and do well in the classroom in the afternoon."
At first the scheme will only apply for children aged between five and seven in England, but Mr Clegg hopes it will eventually be made available to all primary school children.
Education bosses in Scotland, Wales and Northern Ireland haven't yet announced if school children there will get the same.
Do you prefer hot dinners or packed lunches?
Your comments
I prefer lunches as they are usually more healthy, you have a choice and you get to eat your fruit and veg. You choose your sandwich filling and usually at dinners the queues are very long... but the desserts are yummy.
Jack, Belfast, Northern Ireland
I think that hot dinners are better because it is good to try new things and to have different things everyday. And if you are cold it is nice to have hot food to warm you up.
Olivia, Warwick, England
I prefer packed lunches as in my school you have to queue in 3 different places to get hot lunch.
Aibrean, Tyrone, Northern Ireland
I prefer school dinners because it is starting to get colder and you can have a school dinner to warm you up.
William, Manchester, England
I like green beans with my mash.
Tom, Pensarn, Wales
I keep dropping my tray and everyone laughs at me, it's so embarrassing. #PeasEverywhere
Lucy, North Wales
I like school dinners because in packed lunches there is never enough food.
Aidan, Geneva, Switzerland
I say lunches because you can pick what you want to eat for school!
Julianne, Birmingham, England
I prefer having a packed lunch because in my secondary school there are lots of people who have school dinners, so there are really long queues!
Merle, Greenwich, London
I prefer packed lunch because half of the school has school dinner so the queues are VERY long and packed lunched people go in first.
Micky, Stretford, England
I like packed lunch best because sometimes they have tomatoes in school dinners and I don't like them.
Tom, Brighton, England
School meals by a mile. Packed lunches never fill me up like a hot meal.
Ben, Perth, Scotland
I prefer packed lunches because you can tell your mum, dad or carer what to put in your lunch. On school dinners the dinner ladies always have a certain menu which is not fair.
Kiran, Hartlepool, England
At our school they do burger, meatballs and pasta (not together though) so I prefer hot lunches.
Fred, Grangemouth, Scotland
I've always had to have a packed lunch because I am allergic to certain foods.
Callum, West Sussex, England
I think packed lunches are healthier than school dinners. I have fruit and salad in mine every day.
Megan, Alrewas, England
I'm 10 and I think free school meals should be available for all of primary school not just 5, 6 and 7-year-olds.
Paisley, Grimsby, England
I would want to have school dinners because you can have lovely hot meal with a delicious pudding but when you have a packed lunch you can only have cold food like a sandwich and some crisps.
Maddie, Nottingham, England
In my school we don't have a canteen. We have to bring our own lunch.
Millie, Meath, Ireland
I don't mind having school lunches as they are always nice and warm plus I go to a big school where there is a wide range of meals.
George, London, England
I am perfectly happy with school meals, but occasionally I prefer a packed lunch.
Angharad, Swansea, Wales
I always have packed lunches and you can have lots of snacks in your packed lunch.
Isaac, Pembrokeshire, Wales
I never go for school dinners because they are slushy and taste horrible.
Fiona, Hamilton, Scotland
I would prefer school dinners because they are HOT and they are yummy. I also like school dinners because they give you dessert!
Alex, London, England
I prefer packed lunch because you know you like what you put in there.
Elissa, Shrewsbury, England
Packed lunch - because in my school you have to run to get school dinners.
Sam, Newtownards, Northern Ireland