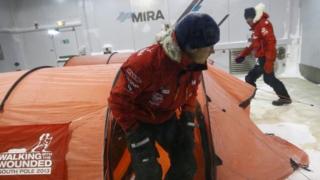 Prince Harry sleeps in a freezer
Prince Harry slept in a giant freezer on Monday night, to train for a charity trek to the South Pole.
The giant freezer is an army test facility used to test army vehicles and train soldiers for extreme weather conditions.
Harry had to endure temperatures of -35C and wind speeds of 45mph in the cold chamber in Warwickshire.
The Prince and his team-mates are getting ready for a charity trek in Antarctica later this year.