All kids aged between five and seven years old in England will get free school meals, from September next year.
The Deputy Prime Minister confirmed the news in an interview with the BBC.
Mr Clegg says the free meals will help mums and dads with the cost of living. It's also hoped that it will help kids to concentrate better in class.
On average parents who pay for school lunches spend around £400 a year per child.
At first only children in reception, year one and year two and will get free meals but Mr Clegg says he wants all primary school kids to have free meals in the future.
"My ambition is that every primary school pupil should be able to sit down to a hot, healthy lunch with their classmates every day," he says.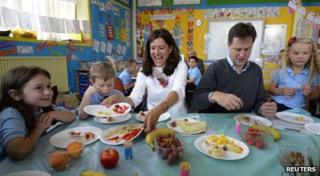 Mr Clegg also said healthy cooked lunches can often be better for children than packed lunches.
The government ran a trial at a school in Durham in England, and Mr Clegg said that the school had seen improvements in the classroom since the free lunches were brought in.
Mr Clegg said: "giving children a good healthy meal at lunchtime is the best way to make sure they can concentrate and do well in the classroom this afternoon."
Governments in Scotland, Wales and Northern Ireland set their own rules for education, and so far they haven't announced if they will provide the same scheme in their schools.