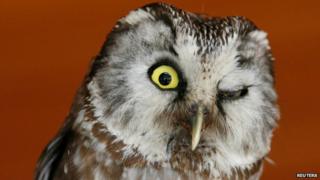 It's being reported that a wedding in Wiltshire in the south west of England was spoiled - because of a disobedient owl!
The bird was supposed to swoop down through the church to deliver the rings to the bride and groom.
But the owl was a bit tired so decided to head up into the roof of the church for a nap!
The service had to be completed with back-up rings as the cheeky bird dozed away in the rafters.
We asked you about your parties that haven't gone according to plan.
Your comments
At my birthday party I got food poisoning and everyone saw me puke, after that my dad called the children's parents and they all went home.
Naya, London, England
I had a beach party and it was spoiled when a seagull ate my cake!
Max, Kent, England
I had a pizza party and I had to lift my pizza base over my head and it fell on my head!!!!!!
Lizzie, London, England
At my party I tripped over a load of wires and knocked everything over including the cake!
Maya, London, England
On my birthday party it was supposed to be all outside, but there was an unexpected storm and we had to stay inside for almost whole party!
Rehana, Nottingham,, England
Only one person came to my party and my mum wouldn't let us eat the cake because it was too pretty :(
Mia, Selby, England
I threw a disco-themed party and my tutu fell off in front of everyone!
Surrayia, Essex, England
My parents had bought me a big polar bear teddy for my birthday as a surprise; but my dog Dillon had chewed it to shreds!
Ella, Exeter, England