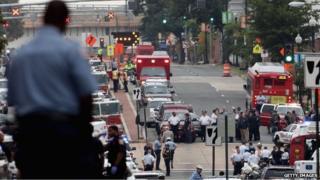 US police say 12 people have been killed in a shooting at a naval base in America's capital, Washington DC.
The incident took place at the Washington Navy Yard, early on Monday morning, a Navy official has said.
Police entered an office building in search of a gunman, after shots were fired, the US Navy said. Events like this are very rare.
The gunman, a 34 year-old former Navy serviceman, died at the scene. A police officer was among eight wounded.
President Barack Obama ordered flags be lowered to half mast at the White House and Capitol Hill.
As many as 3,000 people work at the naval base, which builds and maintains ships and submarines for the US Navy.