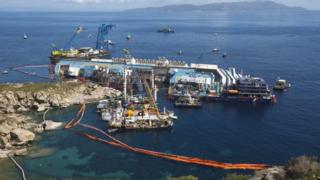 Sunken ship freed from rocks
A team of engineers say they have lifted the sunken cruise ship Costa Concordia from the rocks on which it lay, 20 months after it ran aground.
The vessel has been lying on its side since it hit the rocks near Giglio in January 2012.
Salvage workers are attaching giant metal chains and cables to the ship to try and pull it upright.
It's said to be one of the biggest ever salvage operations; and one's not been attempted this close to land before.