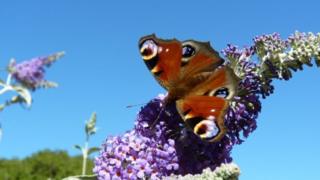 The warm UK weather this summer has boosted the number of butterflies, according to a national survey.
Around 46,000 people took part in this year's Big Butterfly Count, and altogether they spotted a total of 830,000 butterflies.
Volunteers were asked to keep a record of how many times they spotted one of 21 different species of butterflies.
Experts used the records to compare with last year how many different species had been seen across the UK.
They said there was a rise in the number of 15 different species, and some of them had gone up by 50% compared to recent years.
They say the warm weather provided the perfect conditions for a boom in butterflies and moths.
Not all good news
But, they did warn that overall butterflies are in decline, and that we might not see the same results next year.
Richard Fox, who works for Butterfly Conservation, said: "UK butterflies are in long-term decline. Long-term studies going back to the 1970s show that three quarters of UK butterfly species have declined in range and many have also decreased in abundance,"
He added: "The only way that we will be able to halt and reverse the long-term declines of these beautiful creatures is by redressing the damage that has been done to wildlife habitats across the UK landscape."