A team of engineers have lifted the sunken cruise ship Costa Concordia from the rocks on which it lay, 20 months after it ran aground.
The vessel has been lying on its side since it hit the rocks near Giglio in January 2012.
Salvage workers used giant metal chains and cables to the ship to pull it upright.
It's said to be one of the biggest ever salvage operations; and one's not been attempted this close to land before.
The wreck can't stay where it is as it is an environmental hazard - and it's also damaging the tourist industry of the small island of Giglio.
More than 50 enormous chains and winches were used to roll the ship - twice as heavy as the Titanic - upright.
The ship will now be towed away to be turned into scrap metal.
Read more: How did the cruise ship sink?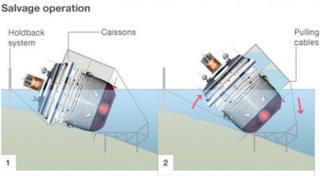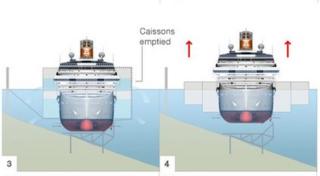 •The specialist team used a method called parbuckling - this means they rotated the ship using levers and cables
•The salvage operation is estimated to have cost 600 million euros (£500m) so far, but could end up costing even more
•The ship weighs 114,000 tonnes and is the length of three football pitches