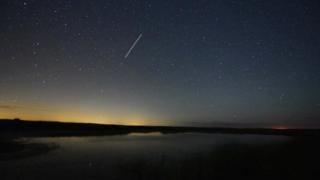 Falling star 'captured' over marshes
A magical meteor shower has been caught on camera at a nature reserve in Norfolk.
The views of the Perseid meteor shower above the Norfolk coast have taken a starring role in a new film celebrating the role of Cley Marshes in the history of nature conservation.
The 25-minute film, created by the Norfolk Wildlife Trust (NWT), features special time-lapse photography.
The shower takes place every year when Earth moves into the path of debris from comets - the display lasted for a week in August.