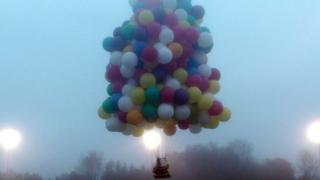 Balloon attempt across Atlantic fails
An American adventurer has failed in his attempt to fly across the Atlantic Ocean using only helium balloons.
Jonathan Trappe set off from the US state of Maine on Thursday after 150 volunteers helped fill the 380 balloons needed to keep him airborne.
He expected the journey, similar to the one in the animated movie UP, to take three to six days but had to make an emergency landing in Canada on Friday after getting into technical difficulties.
Jonathan was hoping to be the first man to complete the ocean trek using just a cluster of balloons.
He's already flown with balloons over the English Channel and the Alps.
Check out the clip to watch the adventurer set off!