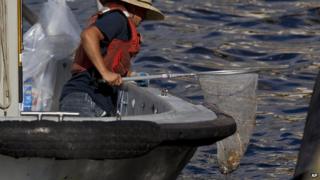 A huge 1,400-tonne treacle spill off the coast of Hawaii has killed thousands of fish.
The syrup got into the water through a leak in the pipeline used to load it on to ships. The treacle is made at a sugar plantation on the island.
Officials say that while treacle in the water is "not harmful to the public directly, the substance is polluting the water, causing fish to die and could lead to an increase in predator species such as sharks, barracuda and eels."
Signs on nearby beaches are warning bathers to stay out of the water.
The hole in the pipe has now been repaired but rescue efforts continue to try to save the marine life.