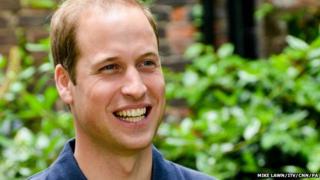 Prince William has revealed that he relaxes by listening to animal noises on his smartphone.
According to the Radio Times, the Duke of Cambridge said: "I've got hundreds of animals on my iPhone, noises and sounds of the bush [the African countryside]."
"If I'm having a stressful day, I'll put a buffalo, a cricket or a newt on and it takes you back instantly to the bush.
"It does completely settle me down."
We asked you what you do to relax...
To relax I lie on my trampoline and look at what shapes the clouds are.
Poppy, London, England
I relax by watching telly.
Joshua, Reading, England
I lie down on the grass in my garden and look at the sun in the sky and read a book.
Amelia, Crewe, England
If I'm stressed, I text/visit my boyfriend or I listen to One Direction, because they are so amazing and I'm a MASSIVE Directioner!
Angel, Cardigan, Wales
I like to relax by having a bubble bath followed by reading a good book in my onesie and drinking a hot chocolate.
Natalie, Kent, England
I just make myself a nice cup of tea and watch Newsround.
Bali, Somerset, England
I like reading. When you read you go into another world and don't notice anything around you. It's very comforting and relaxing.
Osha, West Midlands, England
I relax by listening to things like Taylor Swift and that song from The Hunger Games! They have a slow pace so it really calms me down. Or I love to read books.
Safia, Bradford, England