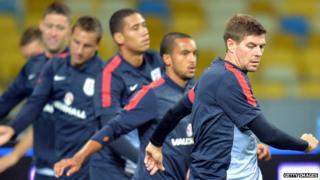 England have a tough match to win against Ukraine tonight if they want to qualify for the 2014 World Cup in Brazil.
England manager Roy Hodgson has described tonight's qualifiers a "cup final."
He says if either side lose they will have "their backs against the wall" to qualify.
England is currently top of their group on goal difference but aren't a definite to qualify yet.
They still have 2 games left to play, against Montenegro and Poland.
Ukraine also have 15 points and if they win tonight would overtake England in the table.
England is the only remaining country of the home nations with a chance of qualifying.
Only the top team in each group goes through, and Wales and Scotland are currently 5th and 6th respectively in their group.
Ricky Lambert is expected to play tonight. He impressed during a match last week, scoring a goal with his very first ever international touch.
Hodgson has said there will be only be one change from the team that beat Moldova on Friday, with James Milner expected to replace suspended Danny Welbeck.