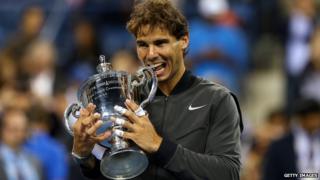 Rafael Nadal beat world number one Novak Djokovic in a thrilling four-set final to win his second US Open title.
It was a closely fought match, but Nadal eventually won 6-2, 3-6, 6-4, 6-1 in three hours and 21 minutes.
One incredible rally lasted for 54 shots - the longest in the New York City tournament - by 20 shots.
Nadal missed last year's US Open because he was out of action with a knee injury, and has been out of action for several months.
After last night's win he's set to regain his world number 1 ranking, putting Djokovic back into second place.
Nadal said: "Having this success is amazing, I never expected it. That's life and I'm lucky to have what I'm having."
Over 23,000 spectators watched the match in the Arthur Ashe Stadium.
It was the 37th time Nadal and Djokovic had played each other - setting a new record of the most amount of time two players had played each other since the Open era began in 1968.
"All of my team knows how much this match today means to me," added Nadal.
"Playing against Novak is always a very special feeling and nobody brings my game to the limit like he does."
Djokovic, whose loss was a fourth in five US Open finals, admitted: "He was too good, he definitely deserved to win this match and the trophy.
"Obviously, it's disappointing to lose a match like this. Again, it was a huge privilege and an honour to fight for this trophy."