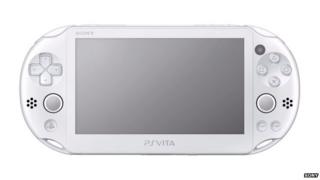 Sony has announced an updated version of its Playstation Vita game console at the Tokyo Game Show in Japan.
The company also revealed a new device called PS Vita TV, a gadget that plugs into your television and allows Vita games to be played on the big screen.
The redesigned portable console, titled the PS Vita 2000, will be thinner and lighter than the current machine.
It'll have better battery life and 1GB of inbuilt memory, and an LCD screen too.
PS Vita TV, the other big announcement of the day, is a tiny set-top box that will connect to televisions and allow games to be played on the larger display.
This will include not only Vita games, but also a wide library of Playstation Portable and Playstation One games. It will also be compatible with the Playstation 4, out later this year.
Vita TV also looks set to rival the Apple TV and Google Chromecast by allowing the user to stream video from services like Hulu.
Sony did not announce when the new devices would be available in Europe and America.