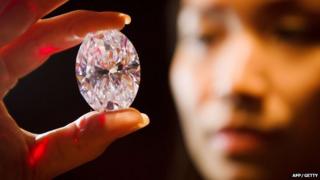 A London auction house is to sell the largest white diamond ever at auction.
The diamond weighs in at 118.28 carats and is the largest D colour flawless diamond (meaning it's totally clear and perfect).
Discovered in 2011 in South Africa, the Magnificent Oval Diamond is one of the largest and most beautiful rough diamonds found in recent years.
The diamond will be offered for sale in Hong Kong, China, in October, and it's expected to sell for £18-22 million.