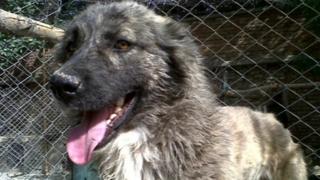 Wylie the dog's amazing recovery
It's not always a dog's life - as Wylie's story shows.
Wylie is a very lucky and talented dog, who has just won a place in a national dog show.
But it might not have turned out this way, because Wylie was found abandoned on the streets of Kabul in Afghanistan.
He was being badly treated and was in a poor state, so soldiers who were serving in the country rescued him and brought him to the UK.
He's since been brought to full health by a charity called Nowzad in Somerset.
And not only that the clever pup has made it through to compete for a place at Scruffts - a competition for cross-breed dogs.
Wylie's next round of the competition is on Sunday, 10 November.