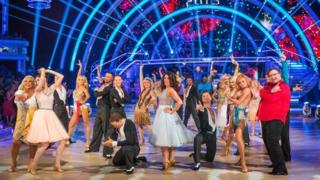 It's so sparkly and bright it's impossible to miss it - it's back and there's more glitter and sequins than ever!
The 2013 series of Strictly Come Dancing started on Saturday 7 September, which makes it the 11th series of the show.
The fifteen contestants now have to prove their dancing skills - who's going to make it to the end?
Will it be radio host Vanessa Feltz or model Abbey Clancy? Or do you think it will be actor Mark Benton aka Mr Chalk from Waterloo Road that will win the judge's favour?
Get in touch using the form below and let us know!
Your comments
I think that Rachel Riley should win because in the celebrity dance she looked like she knew what she was doing and looked confident
Emily, Northampton
I think Anton should win because he has never got past Halloween for three years.
Jennie, Heburn
I think Natalie Gumede should win because she already looks like a dancer and when she performed at the end she was very good.
Kirstie, Wigan
I am the biggest fan in the world I have strictly posters all over my room. I think Abbey should win because she dances gracefully
Poppy, Basingstoke
I think Sophie and Brendan will do well, but I desperately hope Dave turns out to be amazing!!!
Florence, Rugby
I am one of the biggest fans of Strictly you will ever come across. My eyes are literally glued to the screen when I hear that theme tune. I even have to watch every episode on my own so that I can pick up every detail. This meant that my eyes were again glued to the screen when it came back to our screens last night. I have picked 2 people I think have what it takes to get to the final or potentially win. They are: Sophie Ellis-Bextor or Ashley Taylor Dawson. But I suppose I will just have to wait and see!
Harry, Newcastle
I think Natalie from Coronation Street will win or Abbey Clancy!!
Gennie, Manchester
I think that Rachel Riley should win because she is really nice and she has a nice personality.
Lucy, Bedfordshire
I think Anton and his partner should win as he has had rubbish partners so far.
Sophie, Desborough
I think Abbey Clancy should win because I think she can dance!
Holly, Gloucestershire
I think Abbey Clancy will do well. But I will be watching Dave Myers and Mark Benton as I think they are going to be HILARIOUS!!!
Amy, Sheffield