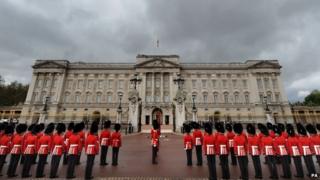 A man has been arrested by police after a suspected break in at Buckingham Palace.
It happened on Monday night when a man managed to climb over the fence and enter the Queen's home.
No members of the Royal Family were in at the time.
A man was being held by police on suspicion of burglary, trespass and criminal damage.
A second man was also arrested outside the grounds on suspicion of conspiracy to commit burglary.
Both men have now been allowed to go home, while police continue their investigation.
Security experts are looking into how it happened.