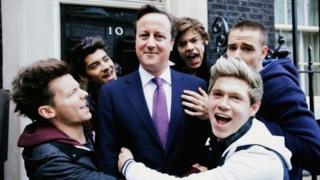 David Cameron has used One Direction as an example of what makes Britain great.
The prime minister, at the G20 summit in Russia, was responding to reports that a Russian official dismissed Britain as "just a small island".
"We're a country that has invented many of the things that are most worthwhile," said Mr Cameron on Friday.
"Our music delights and amuses millions: the Beatles, Elgar and slightly less congruously One Direction have conquered the world."
Speaking to reporters, the unnamed Russian official is thought to have said "no-one pays any attention" to Britain - though Russia strongly denies the comment was made.
In a press conference at the end of the G20 summit, Mr Cameron said: "Let me be clear - Britain may be a small island but I would challenge anyone to find a country with a prouder history, a bigger heart or greater resilience.
He went on: "Britain is an island that helped to abolish slavery, that has invented most of the things worth inventing, including every sport currently played around the world, that still today is responsible for art, literature and music that delights the entire world."