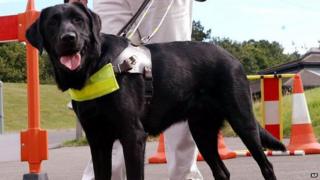 Guide dog owners are being illegally denied access to restaurants and leisure facilities, according to the charity Guide Dogs.
They say complaints from owners have risen by a third since last year.
Pets aren't allowed in many public places but some blind people have canine helpers and should have access.
Guide dog owners are being refused entry to shops, cafes, transport and other venues when going about their daily lives, a study found.
The report, which takes into account almost 400 complaints received by Guide Dogs, showed that the largest number of reported incidents involved restaurants.
'More awareness needed'
The Disability Discrimination Act (DDA) says that by law, business owners must make "reasonable adjustments" to make their premises' accessible to disabled people. This should include being flexible on a "no dogs" rule for people with guide dogs.
Richard Leaman, chief executive of Guide Dogs said: "More awareness is needed to avoid blind and partially sighted people having to cope with this stress and discrimination."
The report was published ahead of Guide Dogs Week (October 5-13), which aims to raise awareness of the challenges faced by guide dog owners in getting around with ease.