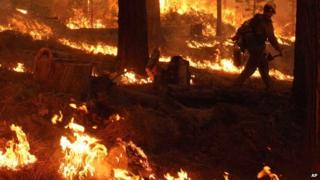 Officials in California say the huge wildfire burning in and around the Yosemite National Park was caused by an illegal fire set by a hunter.
The fire, which has spread over 370 square miles, is one of the largest in California's history.
According to the US Forest service the wildfire spread when a hunter lost control of a fire in an isolated area.
The fire is now 80 per cent under control (meaning 4/5 of its perimeter is contained), but is still burning.
Last week we spoke to 14-year-old August, who told us what it is like to live near the blaze.