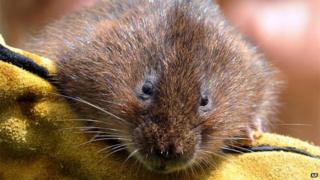 Water voles have declined by a fifth in the UK since 2011, a survey suggests.
Conservationists say that habitat loss, being hunted by American mink, and changeable weather are to blame.
The research was carried out by the Environment Agency and Wildlife Trusts, who are working to create more vole-friendly waterways.
Earlier reports had suggested that the animals were making a comeback. Conservationists say more needs to be done to save this species.
Alastair Driver, National Conservation Manager from the Environment Agency, said: "This creature is part of our waterway systems. People love walking along a canal and hearing the plop of a water vole into the canal. They are part of the food chain... part of the ecosystem.
"It would be a real shame to let that go."