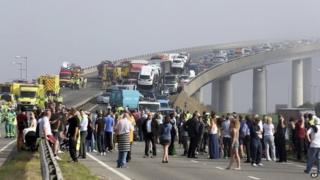 A series of big road crashes happened at around 7.15am this morning on the Sheppey crossing bridge in Kent.
According to police at the scene, around 130 vehicles are involved in the pile-up which took place in heavy fog.
Reports suggest around 200 people have been treated by ambulance staff, and at least eight are seriously injured.
Police say that the fog is likely to have been a "factor" in the crash but that it's too early to decide what caused it.
Remember that incidents like this are very rare.
If you are upset by the news there is plenty of advice on our website.