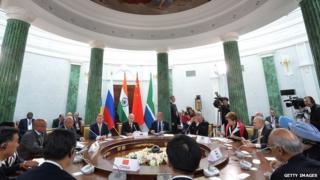 Lots of the world's most important politicians are attending a big meeting in Russia today, called the G20 Summit, where it's thought the focus will be on the crisis in Syria.
Syria is not officially on the G20 agenda in St Petersburg, but it is expected to dominate informal, and possibly even formal, meetings.
What is the G20?
The Group of Twenty (G20) is made up of 19 of the world's largest economies plus a representative from the European Union.
Meetings are held once a year for two days in the country of the president of the group, which changes each year.
The first meeting, or summit, took place in US capital Washington DC in November 2008. The idea was originally proposed by former Canadian Prime Minister Paul Martin.
The UK last hosted a summit in 2009.
Australia will hold the next meeting, followed by Turkey the year after.
Which countries are in the G20?
The G20 represents more than 85% of all the money in the world and includes the UK, US, Canada, Mexico, Germany, France, Italy plus a representative from the EU.
Indonesia, Saudi Arabia, Turkey, Australia, South Africa, South Korea, Japan, China, India, Brazil, Argentina and Russia are also members.
Other countries can be invited to take part in summits and members aren't necessarily the richest countries in the world.
Members don't always agree as they try to look after the interests of their own countries.
Why isn't every country invited?
Many people believe if there were too many countries in a group like this, it becomes more difficult to make decisions.
Who is coming to the meeting?
The host, Russian President Vladimir Putin, has invited the heads of government of all the members, including British Prime Minister David Cameron and the American President Barack Obama.
Finance ministers, central bank governors from all the member countries, plus top officials who deal with the global economy also attend.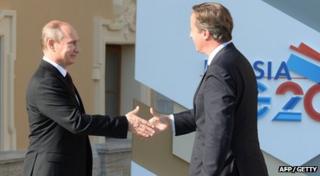 What are they going to talk about?
The G20 talks about the the most important financial and economic issues of the day.
Since 2010 that has mainly been the recession being felt by most regions of the world.
Other topics include making sure poorer regions have enough food and sustainable development.
It makes sense for countries to talk to each other and co-ordinate their plans because their economies are so interlinked.
The problem is that each country obviously wants the best for their own people, so it may be difficult to agree.
How are the decisions they make going to affect children and young people?
Their plans - good or bad - will affect everyone around the world - that includes all children and young people.
Because some of the plans will aim for longer term results, certain things may not be noticed until today's children and young people are adults.