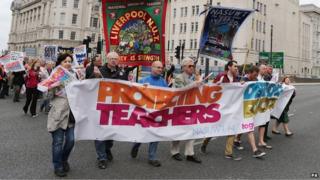 Two of the UK's biggest teachers' unions are threatening a national one-day strike in England before Christmas.
This is because they are in a row with the government about pay, pensions and workloads.
But the National Union of Teachers (NUT) and National Association of Schoolmasters Union of Women Teachers (NASUWT) have not announced a date.
They want talks with the government - which says the "disappointing" strikes will disrupt pupils' learning.
Other, smaller-scale strikes in certain regions have been announced for dates in October.
Teachers have accused the government of "reckless and irresponsible behaviour" and say that Education Secretary Michael Gove has refused to have meaningful discussions with them.
Mr Gove has said he will now meet the unions for talks, but the government's Department for Education has described the strikes as "disappointing".
They say the strikes will disrupt pupils' learning, inconvenience parents and damage the reputation of teachers involved.
'No choice'
The teachers' union leaders say they want to discuss the changes to their pay and pensions.
Under reforms set to come into effect from this autumn, a teacher's pay will be linked to performance in the classroom and head teachers will have greater flexibility over salaries.
Teachers have also protested against changes to their pensions.
Chris Keates, a top official in the NASUWT, said the teachers' unions would meet the government "any time, any place" and that parents would understand that teachers needed to protect their pay and conditions.
A Department for Education spokesperson said: "It is disappointing that the NUT and NASUWT are striking over the government's measures to allow heads to pay good teachers more."