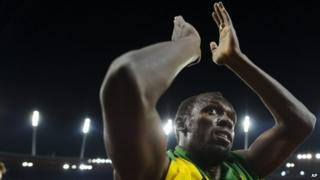 The world's most successful sprinter, Usain Bolt says he plans to retire after Brazil's 2016 Olympic Games.
Asked at a Diamond League press conference in Belgium whether he'd thought of retiring, he said: "So far it's after the Olympics in Rio.
"If I'm in great shape and I go there and do what I have to do, I think it would be a good time to retire on top and having dominated for so long."
Bolt has six Olympic gold medals but wants more in Rio De Janeiro.
He's fastest man ever to run the 100 and 200 metres but he says he wants to break the record over 200m again next year. He's even hinted in the past that he thinks he may be able to run the race in less than 19 seconds.