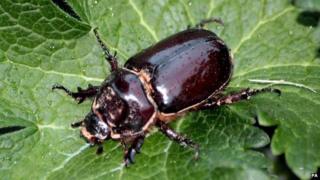 Bugs enthusiast Angie Hill was "very excited" to discover a rare giant beetle in her garden.
The European rhinoceros beetle was found at her home in Worcestershire.
Conservation trust Buglife identified the beetle from a photo Ms Hill sent them and believes it is the first time it has ever been found in Britain.
Ms Hill saw the beetle when she went to look at moth traps she uses to count species for the Teme Valley Wildlife Group.
"I saw this huge beetle, which was very shiny like a conker, and so I grabbed my camera," she said.