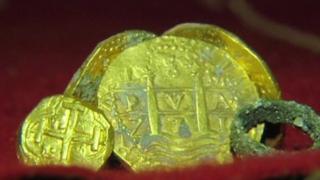 Hunting for sunken treasure has finally paid off for one American family who have found $300,000 (almost £200,000) of gold.
Rich Schmitt and his family found Spanish gold chains and coins off the Florida coast, after years of search.
It's thought the treasure was from the wreckage of a convoy of ships that sunk in 1715 after being hit by a hurricane.
By law, the state of Florida will take some of the gold for display in a museum.
The rest will be divided between the Schmitt family and the company that owns the wreckage.
Schmitt said there was "excitement, followed by a lot of crying" after the discovery.