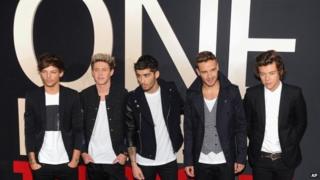 One Direction's 3D movie This Is Us has topped both the UK and US box office charts after its opening weekend.
The film follows Harry, Niall, Zayn, Liam and Louis behind the scenes on their mega world tour.
The movie's taken $17m in America, £3.5m in the UK and a total of $32m worldwide so far!
Despite the film's early success, it's not yet matched the performance of some its recent rivals.
In the US, Justin Bieber took $29.5m for his film: Never Say Never in 2011. Michael Jackson's film: This Is It, which came out in 2009, managed to take £4.9m in its first weekend in the UK.
Hannah Montana/Miley Cyrus: Best Of Both Worlds still holds the record for 3D music documentaries, taking a whopping $31.1m on its opening weekend in 2008.
We reckon the 1D boys will still be pretty happy though!