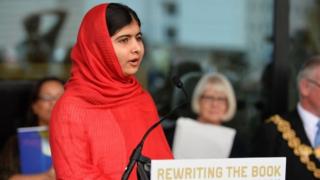 'A city without books is a graveyard'
The new £189m Library of Birmingham has been opened by Malala Yousafzai, the teenager shot in the head in Pakistan by the Taliban for championing women's rights.
Addressing the public, Malala said she was feeling very proud that the building, which houses one million books, had been designed by a woman and that the city was now her second home after her "beloved Pakistan".
She said: "A city without books in a city without a library is like a graveyard."