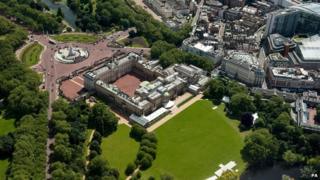 Where's the most unusual place you can think of to play a footy match? How about the Queen's back garden?
Buckingham Palace will host its first football match to mark the Football Association's 150th anniversary.
The Duke of Cambridge, Prince William, is the president of the FA and helped arrange the match between two of England's oldest amateur clubs.
He had to ask permission from his grandmother - the Queen - for the match to take place.
Civil Service FC and Polytechnic FC, both based in Chiswick, west London, will play at the palace on 7 October.
Civil Service FC is the only surviving club from the 11 clubs who founded The FA way back in 1863, and later drafted the 13 original laws of association football.
Prince William will host the event and also present medals to 150 grassroots volunteers in recognition of their dedication to the sport. The match is being held in tribute to their commitment.
Wembley Football Stadium groundsman Tony Stones will work with the royal household's gardeners to create a pitch in the 40-acre garden.
Let's hope the Queen's Corgis don't get in the way!