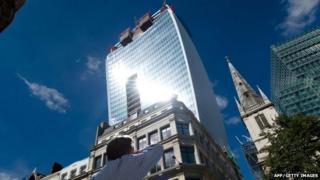 How does a building melt a car?
A new London skyscraper, nicknamed the "Walkie Talkie", has been blamed for melting part of a car parked nearby.
The car's owner said the Sun's rays reflected off the building's curved shape, causing almost £1,000 in damage.
The building's developers have apologised and paid for the repairs.
But that's not the only damage people have noticed. A nearby restaurant has scorch marks on the floor by its door and a cyclist says his bike was left with a hole burned in the saddle.